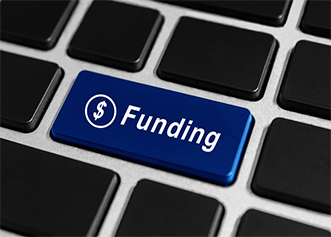 Next Day Funding
After your customer's purchase has been authorized and settled, it can be funded.
Funding occurs when the payment brands such as Visa®, MasterCard®, and Discover® reimburse First Data for the transaction. Only then can your processor send those funds to you.
The number one goal is to ensure you get what you need when you need it, and this includes the proceeds from your customers' credit or debit card payments. While it is not possible to guarantee a specific fund delivery time frame due to a number of issues, you will almost always receive your funds within one business day.
The time that you settle your payments affects the time that the funds are delivered to you. Contact us to learn more.
Funding Weekends and Holidays
Note that funding does not occur on weekends and on certain holidays. Regular bank holidays apply.
Funding Frequently Asked Questions
What Bank Account Can I Use For Depositing My Funds?
You can use any bank account provided by a Canadian financial institution or credit union.
If you do business with clients in the United States, you can also set up a U.S. currency account and have U.S. funds directly deposited into your U.S. bank account.
Do I Need To Have A Business Bank Account?
If you are incorporated or in a business partnership, you must have a legitimate business bank account. However, if your business is a sole proprietorship, you can use your personal bank account.
How Long Does It Take For Funds To Appear In My Bank Account?
If you are banking with CIBC, Scotiabank, Bank of Montreal, TD, Royal Bank, or National Bank, your funds should appear in your bank account the next business day.
If your bank account is with another bank or is with a credit union, it can take up to two business days for your funds to be deposited into your account.
You should be aware that the earlier in the day that you settle your account, the faster you will receive your deposit.
Any transactions that you process over the weekend are deposited the next business day.
What Happens If I Want To Process Transactions In US Dollars?
If you wish to process your transactions in U.S. Dollars, you'll need to provide a void cheque for a USD bank account from a Canadian financial institution.
Note that U.S. Dollar fund settlements take up to two to three business days in Canada.
Let's Work Together
Get in touch and ask us for a quote or ask a question about what solution is best for your business. Call us at 888-616-6967 or click to send an email. We're here to help.