State of the Art – Wired And Wireless Payment Terminals
Thanks to our range of payment terminals, you can choose a Payment Terminal that meets both your business needs and your customers' preferences.
⇒ Merchant rates as low as .087*
 Accept credit and debit payments using Chip and PIN, Tap and Pay, and Mobile Wallets.
Clover Flex Payment Terminal
Everything your business needs. In one simple, smart, reliable device.
Sales-Ready
Start taking orders out of the box, with minimal set-up and training.
Track Your Numbers
Log in any time, anywhere to see your sales, best-sellers, and everything else from any computer or mobile device.
Stock-Smart
Categories, labels, modifiers and variants help you keep your inventory up-to-date and organized.
Turn Customers Into Loyal Fans
Create a fun, effective loyalty program within minutes. Above all, it's absolutely free, no strings attached. I addition, we offer custom-branded gift cards.
Payments And Deposits Made Easy
Swipe, dip, tap, or take cash—accept all the ways your customers like to pay. Above all, you get the funds in your bank account as fast as the next business day.
Stay On Top Of Your Numbers
Monitor your sales, refunds, and best-selling items from any computer or mobile device.
Future-Proof Your Business
Mini can be as minimal or full-featured as you want it to be. And it will always grow and scale with your business.
Poynt Smart Payment Terminal
Sell everywhere – Manage from anywhere –
Grow all the time.Accept payments on your website, on mobile, or in your app using our simple yet powerful APIs.
Accept all forms of physical payments including chip cards and contactless payments such as Apple Pay and Google Pay
Accept payments remotely over the phone by manually entering your customers' card information using any Poynt terminal, our mobile app, or our web portal.
Poynt 5 Payment Terminal
Poynt 5 smart terminal brings the unlimited versatility of a mobile device to a future-proof payment terminal for all kinds of small businesses.
In addition you can take your point of sale anywhere with Poynt 5 — a fast, lightweight Payment terminal that fits in your pocket. The Poynt 5 is perfect for tableside, in-aisle, or on-the-go payments and features an app store that offers everything from accounting to inventory management apps.
Ingenico Move/5000 Payment Terminal
Boost sales on-the-go with a world of business apps and a user-friendly and intuitive interface
Create new customer experiences by combining payment and mobility. In addition, accept the broadest range of payment methods on-the-go.
Featuring powerful multimedia capabilities and a large 3.5-inch color touchscreen, the Move/5000 provides a best-in-class user experience thanks to a rich user interface.
Canada First has the best selection of payment terminals from First Data, ELavon and Global Payments Payment Terminal
Ingenico Desk/5000
Open your countertop to a world of business apps. The Ingenico Desk 5000 payment terminal provides a seamless countertop payment experience for your customers. Supporting all forms of electronic payment, the Desk 5000 is capable of running interactive business apps, such as dynamic currency conversion on its vivid 3.5-inch touchscreen.
Above all, the Desk 5000 is perfect for retail operations, quick-serve restaurants and professional services (practices such as dentists, doctors, lawyers and accountants). In addition, the Ingenico Desk 5000 is an all-in-one payment terminal that features everything your business needs to easily and securely accept debit, credit, and all other payment types, including contactless payments.
Ingenico IWL255 Payment Terminal
Bring compact, reliable 3G wireless mobility to your point of sale 
If you're business is looking for payment solutions on the move, the Ingenico iWL255 wireless credit card payment terminal is a great choice.
Accept all forms of payment quickly, easily and securely.
The iWL255 payment terminal allows customers to make electronic payments on the spot at the time services are received, regardless of the type of business.
The Ingenico iWL255 is small, lightweight and convenient incorporating advanced features and functions.
Ingenico IWL250 Payment Terminal
Long Range Wireless Terminal
Ingenico's new pocket-sized iWL250 is compact, easy to use, handle and carry. This includes a full set of payment capabilities, including smart card (chip card), magnetic stripe card, and embedded contactless (NFC) all in your pocket.
Ingenico ICT250
The smart and compact desktop device designed for maximum efficiency.
Among the world's smallest and lightest devices, the iCT 250 is designed for easy handling and robust daily use. The backlit keypad makes PIN entry and menu navigation easy and intuitive. Also, the large keys and power buzzer speed transactions and reduce PIN entry errors.
Easily accept Tap & Pay (NFC) cards, including Apple Pay.
Virtual Terminal
Away from your Point of Sale device but don't want to miss a sale? Our Virtual Terminal gives you the flexibility and convenience of processing payments—and, refunds—wherever you happen to be.
Just log in to your Web Dashboard from a smartphone, tablet, or computer and you're ready for business anytime, anywhere.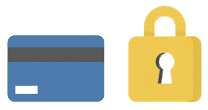 Process Transactions Securely
Each of our wired and wireless terminals encrypt cardholder data, ensuring sensitive information is always safe and secure for every transaction. We think security should be one less thing you have to worry about
Let's Work Together
Get in touch and ask us for a quote or ask a question about what solution is best for your business. Call us at 888-616-6967 or click to send an email. We're here to help.
*Our rates start at 0.87%, but can vary from industry to industry. Every industry has different rates. Please contact us so we can properly price out processing costs for your business.