Accept Apple Pay!
Now, with Apple Pay™, consumers are ready to tap and pay anywhere contactless payments are accepted.
Apple Pay is a fast, easy, secure and confidential way to pay. Similarly, it provides your business with a simplified payment process and an improved customer experience in-store, in-app, and remotely.
Canada First Provides a broad set of payment solutions allows you to offer your customers the ability to accept Apple Pay.

Secure, Simple And Private
Paying in stores or within apps has never been easier or safer. With Apple Pay, gone are the days of searching for your wallet. The wasted moments finding the right card. In other words, now you can use most of your payment cards with just a touch.
It is simple to use Apple Pay and it works with the cards you already have on the devices you use every day. Above all, because your card details are never shared when you use it, in fact, they aren't stored on your device at all — using this payment method on your iPhone, Apple Watch or iPad is the safer and more private way to pay.
What Is Apple Pay?
Apple Pay is a mobile wallet that takes advantage of NFC (Near-Field-Communication) technology, also known as "Tap and Go" or "Tap & Pay". In addition, it allows consumers with iPhones to "load" their various credit cards into their phone. Therefore, when ready to make a purchase, they open the wallet app and tap their phone against the credit card reader.
Are There Any Limits To Using Apple Pay?
In Canada there are some limitations:
It only works on the newest Apple devices
Like other Tap & Pay transactions they are typically limited to $100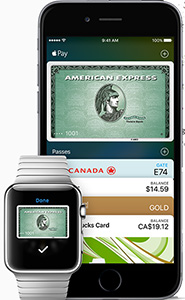 How Much Does It Cost To Accept Apple Pay?
Transactions are handled using the traditional interchange rates. There are no additional fees to the merchant.
How Do You Accept Apple Pay?
As long as your terminal supports NFC, your business will be able to accept these transactions. In other words, as a merchant, all you need is a terminal that supports NFC.
All terminals supplied by Canada First now support near-field payments, and merchants are able to automatically accept Apple Pay through these terminals. In conclusion, transactions work the same way as existing Tap & Pay cards such as MasterCard's PayPass and Visa's PayWave. There is no need for any special request when you open your Canada First merchant account.
Let's Work Together
Get in touch and ask us for a quote or ask a question about what solution is best for your business. Call us at 888-616-6967 or click to send an email. We're here to help.