Take your point of sale anywhere with Poynt 5 — a fast, lightweight POS device that fits in your pocket.
The Poynt 5 is perfect for tableside, in-aisle, or on-the-go payments and features an app store that offers everything from accounting to inventory management apps.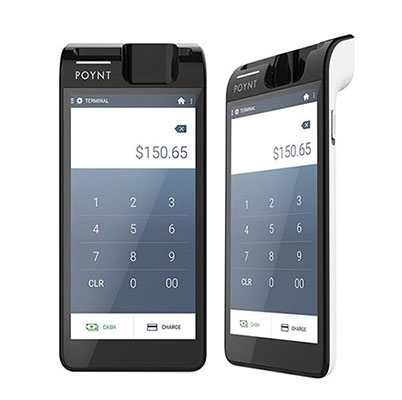 Poynt 5 POS
Its a smart terminal that brings the unlimited versatility of a mobile device to a future-proof payment terminal for small businesses like yours
The Poynt 5 terminal was built to meet the highest PCI and EMV security requirements to ensure the ultimate protection for your business and your customer's information.
With up to 8 hours of battery life, you are ready to take payments in line or at the table all day long!
Accept All Payment Types, Anywhere With Your Poynt 5 POS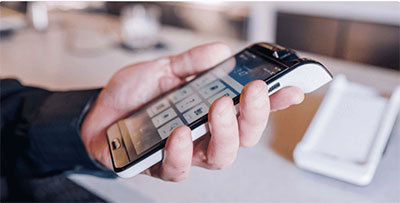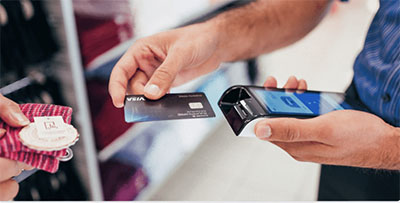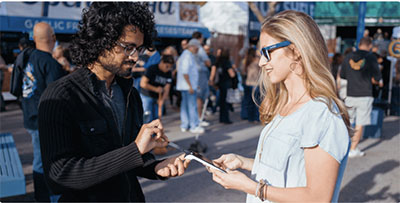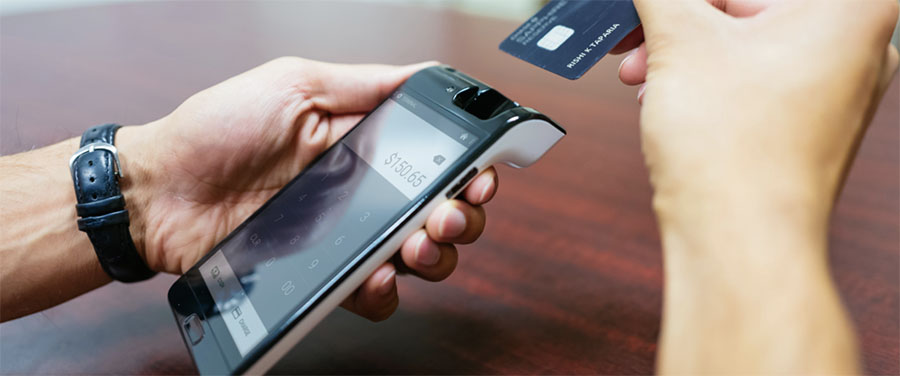 Poynt 5 lets you accept payment anywhere, with the security and convenience you should expect in your payment solution.
Poynt POS 5 Has Everything You Need
About the size of a smartphone, Poynt 5 is Elavon's sleek mobile solution that can work with the Poynt 5smart terminal or be used standalone.
The advanced dock allows you to print receipts directly from the terminal, making it ideal for taking orders at the table or line-busting.
The dynamic device has a battery life of up to 8 hours – a full shift – when combined with the Power Sleeve.
Poynt 5 also connects to Poynt HQ, giving you flexibility to customize your product mix depending on business needs.
Access the same powerful business management tools and the app marketplace from your Poynt 5 POS device, a computer or your HQ app on your smartphone.
Access other powerful apps on the app marketplace to simplify your operations. Rocket Tabs allows restaurants to track tabs, pre-authorize credit cards and track tables and orders. List Builder is perfect for staying in touch with your customers, as it connects to many email systems and adds customers with emailed receipts who agree to receive messages to your marketing list.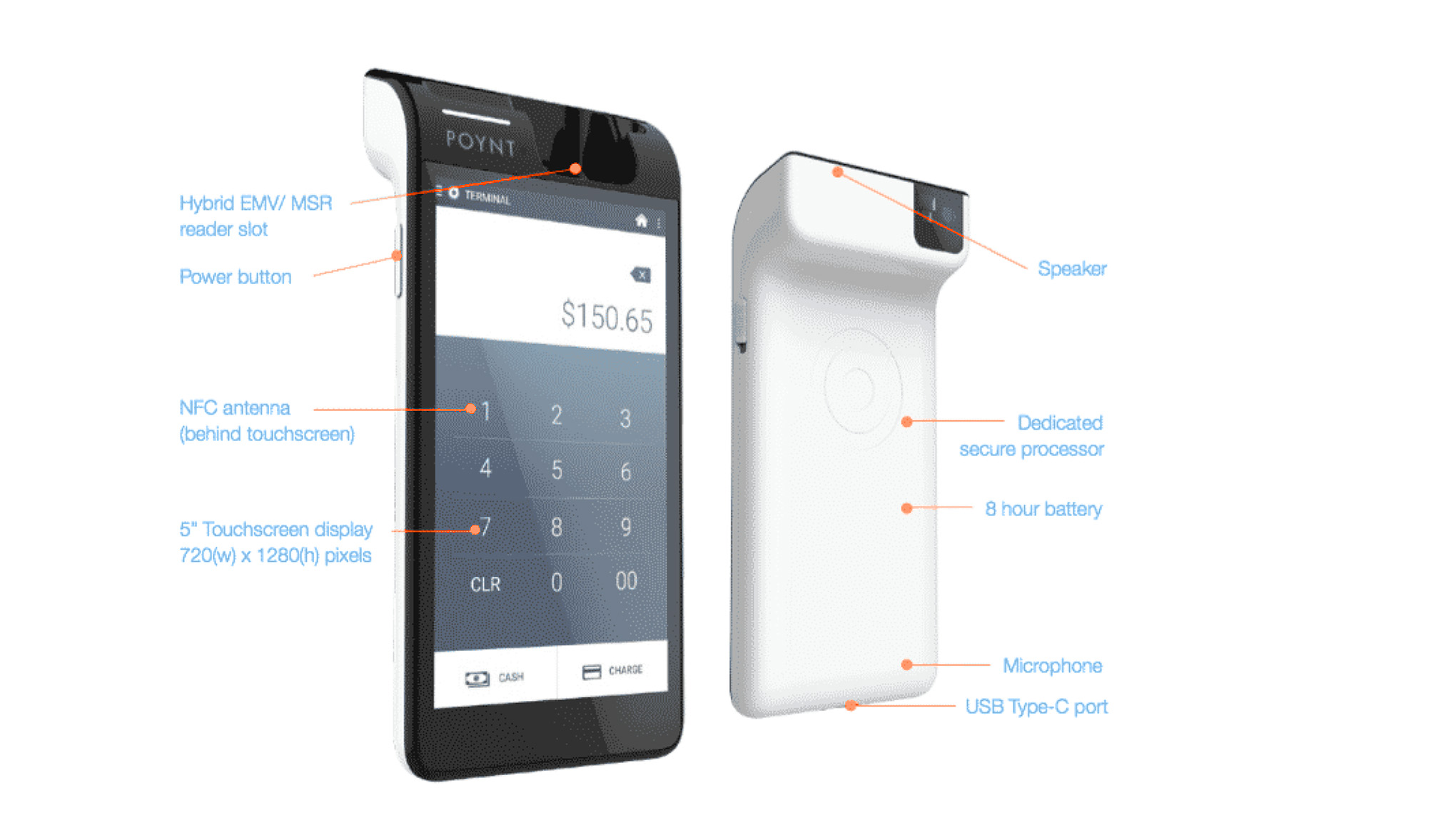 More Than Just A Payments Provider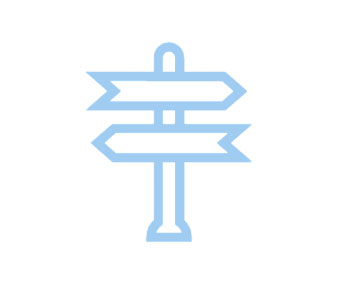 Terminal Flexibility
Your Poynt 5 smart terminal can be wired at your countertop or wireless: accept card payments in any corner of your business, serving customers on the shop floor, at their tables or on the go.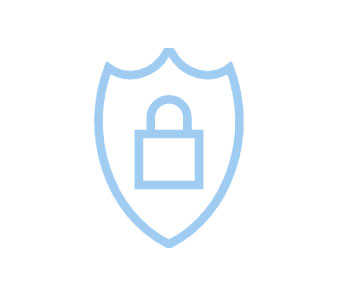 Proven Security
Get smart security with Elavon's Safe-T Solo embedded, card data is fully encrypted and tokenized. Data breach protection allows you to get paid without worrying about fraudsters.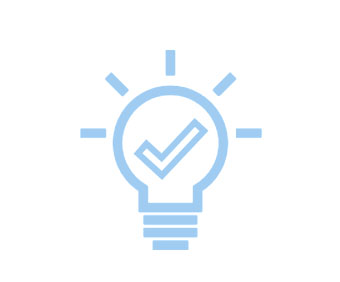 Customizable Tecchnology
A built-in Register app helps you build a catalog and organize your products in logical categories. It's easy to customize by name, price, colour, size or whatever is relevant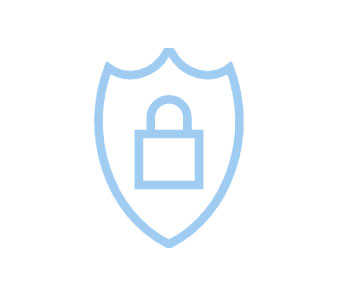 Poynt HQ
The Poynt HQ user-friendly dashboard lets you manage your business – See transactions and settlements in real time. Access it on the web, your phone or right from your Poynt touchscreen
All Payments, All The Time With Poynt 5
You offer your customers the products and services they love; don't forget to let them pay the way they like.








Let's Work Together
Get in touch and ask us for a quote or ask a question about what solution is best for your business. Call us at 888-616-6967 or click to send an email. We're here to help.