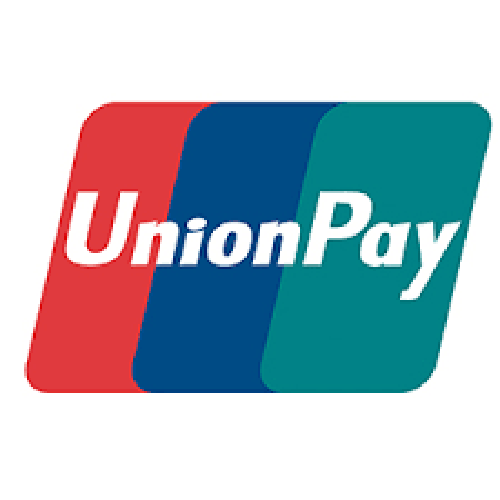 Benefits Of Accepting Union Pay Credit Cards
Union Pay is rapidly becoming one of the biggest global players in the credit card business comprising 50% of the credit cards issued worldwide.
Established in March 2002, it is a bankcard association established under the approval of the State Council and the People's Bank of China. The UnionPay acceptance network has extended to more than 140 countries and regions outside China, with more than 1 million ATMs and nearly 10 million merchants overseas.
The UnionPay card is not only well accepted by Chinese cardholders, but also highly recognized by more cardholders in other countries and regions. In fact, it has become one of the primary international bankcard brands.
Merchants and ATMs all over North America now accept these credit cards. This is because it provides quick, reliable payment options with fraud protection and low transaction fees.
As a First Data merchant, you can easily set up your merchant account to accept these credit cards. Ask us at Canada First to add Union Pay card acceptance to your Merchant Account…it's easy to do.
Union Pay Interchange Fee – Canada
Every time this credit card is used, you will have to pay an interchange fee.
1. Interchange
Union Pay's current Interchange structure includes rates that vary by acceptance region, transaction type, card type, card level and merchant category. The goal of Union Pay in setting such fee rate is to ensure wide-spread issuance and acceptance of the Cards.
Current Interchange rate for transactions captured in Union Pay network in Canada is as follows: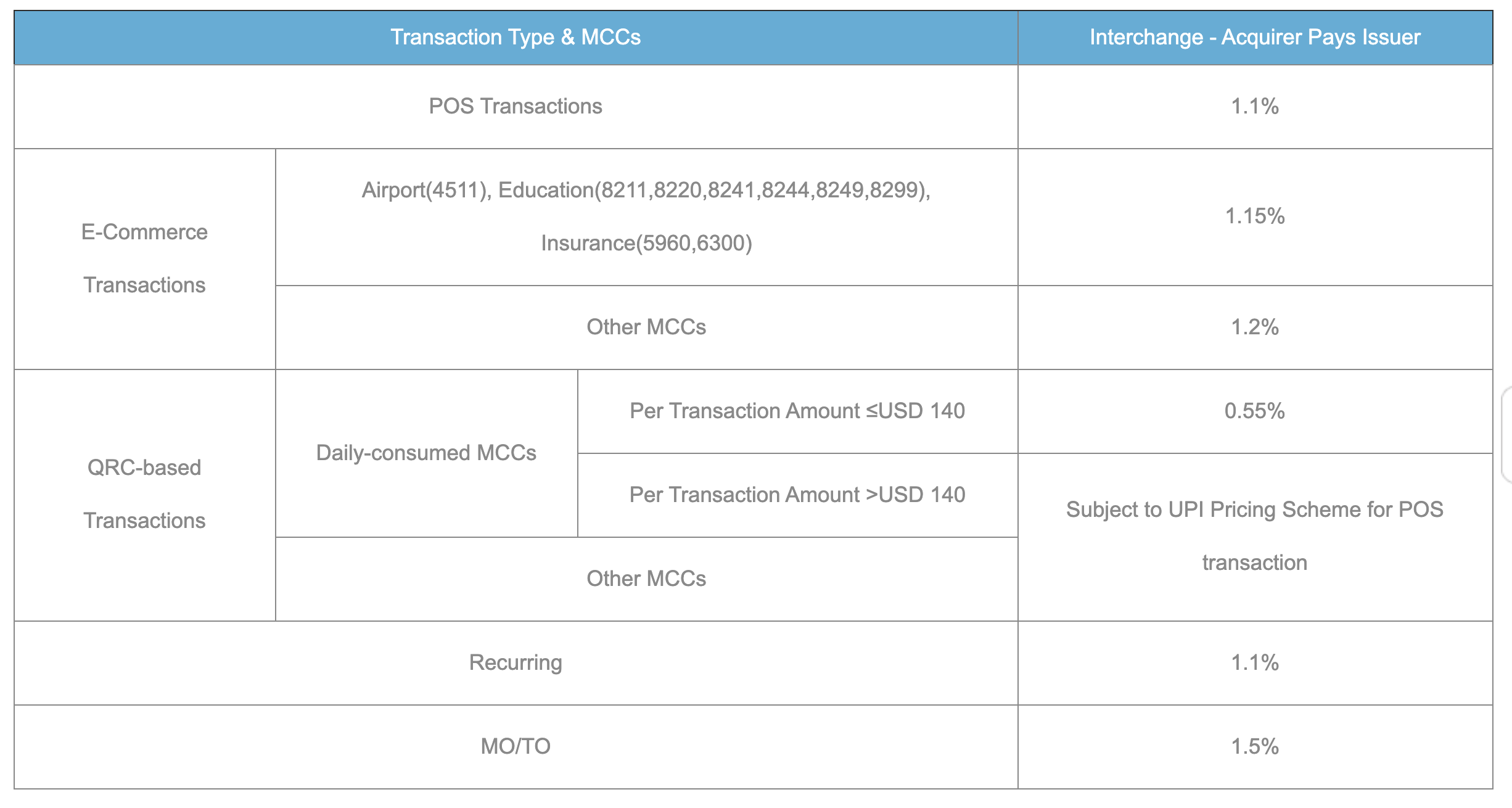 2. Service Fee
Union Pay's current Service Fee structure includes rates that vary by acceptance region, transaction type and merchant category.
All transactions acquired in Canada, the service fee paid by Acquirers are shown as follows: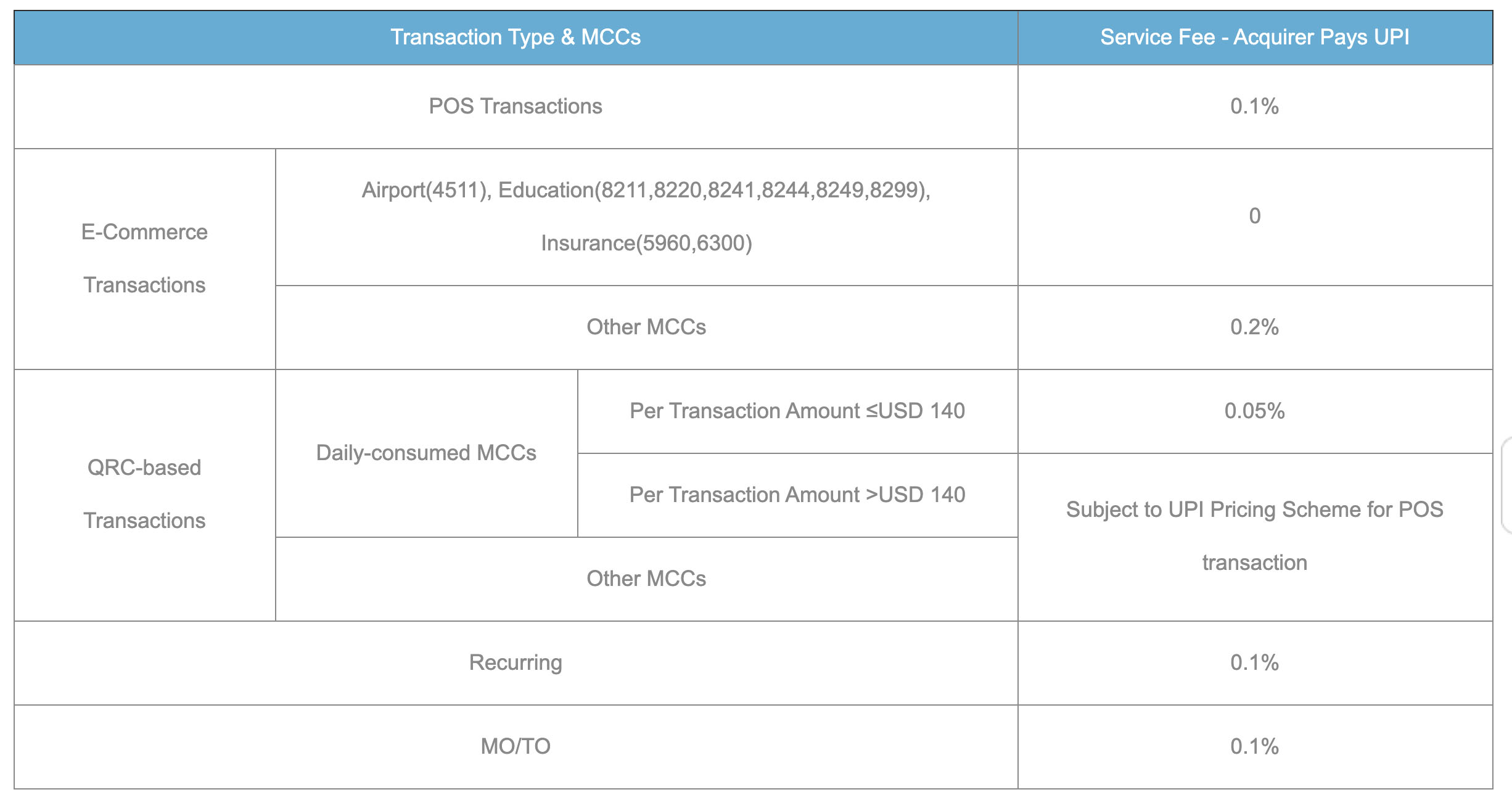 Let's Work Together
Get in touch and ask us for a quote or ask a question about what solution is best for your business. Call us at 888-616-6967 or click to send an email. We're here to help.